How foreUP has changed in recent months and years to provide the tools and service our customers deserve. 
We know how critical it is for a business to have the tools and functionality they need to run efficiently. After all, we are a business that uses software, too, and we've done our share of researching, purchasing, and using a new tool. So we know how disappointing it is when you find one you think is a great fit only to find it doesn't actually do the things you need the most.
Like any software, foreUP isn't perfect for everyone and we've had customers leave us over the years because we didn't provide them with tools or services they needed to be successful. This is one of the reasons we are constantly striving to improve our existing tools and build upon the platform with new ones.
This blog will give you a look at some of the BIG changes to foreUP in the last couple of years. We'll show you some of the small ones, too, because often those are the things that matter most when it comes to running your daily operation.
More Support, Better Service, Fewer Issues
As we grew we found that our customers weren't getting the support they needed fast enough, so we prioritized building out our support structure to solve the problem. In the last couple of years we've tripled our customer support team and implemented many changes to ensure that you're getting faster service while experiencing fewer issues in the first place.
We've added many more customer support representatives as well as dedicated high-level, account managers. We've also improved the structure and objectives for our Development and Product teams to prioritize your daily operations.
Dedicated Account Managers
Personal calls and check-ins to increase rounds and drive revenue
Data-driven annual review
Give you actionable insights to make smarter decisions
Customer Support
More streamlined process for any issues that arise.
If an issue comes in, a Dev Team member pauses what they are working on and digs into the issue until it is resolved.
Standard 40 seconds response time
40 seconds compared to industry standards 2 hours
Email responses within 20 minutes
Cases usually resolved same day when there is open communication
NEW Customer Feedback Portal
We have implemented new tools to help us collect, review, and prioritize feedback
The new process gives more transparency and better follow up
Much easier and faster for our users to make suggestions and requests
Dev Team
Changed the way we release new features to minimize impact
If an issue comes in from a customer, the Dev team member will stop what they're doing and prioritize the problem's resolution
Product Team
Truly listen to our customers issues and want to solve their problems to make their lives easier
Interviews with clients to see what they like and don't like about the product or feature so that we understand their needs
Dramatically low level of bug reports
QA Team
New and Revamped Products
Billing Premier
We spent a year and a half perfecting the new billing product that launched fall of 2018. Our Product team worked closely with customers and non-customers alike to get a clear vision of what a perfect billing tool would look like for you and your guests or members. Then, the product was used by Beta courses (and us!) for many months prior to public release.
It's opened up a new world of opportunity for the businesses we serve. Take a look at some of the features included with new Billing Premier:
Next-day ACH
3 minute setup
Next-day available funds
No CC processing fees
Automated or one-time Fees
Finance charges
Convenience fees
Service fees
Customer Login Portal
Easy access to statements and invoices
Automatically prompts the setup of ACH auto-payments
Bill pay includes partial payments, balance forward, auto-pay, and other customizable options
Auto-Emailed Statements
Easy to read statements and invoices are also sent through automated emails
Summary Email Improvements
Improved summary emails include a dashboard that lets you see all the important data, including declined payments.
Time-Saving Features
Invoice scheduling allows you to send invoices at whatever intervals you choose
Automated prorating
Need to change your rates? Edit one invoice and elect to have it update all the rest, too.
Selling Passes
It automates as much as possible for your staff. The easiest way to get from making your tee time to be checked in and paying the right amount. Everything can be attached to the customer's account. It eliminates the need for any physical card (unless you want one).
The staff makes a tee time and doesn't need to worry if it is a member with a pass or not, the system does it all for them. If they are a pass holder it will check to see if that pass is valid at that time or not and pull over the correct pricing to the POS. We can build logic into the passes so you aren't losing money on staff making a mistake.
For more information on Billing Premier, check out this Streamline the process of billing (Infographic) or this blog post.
New Food & Beverage
The original version of our dining operation software wasn't as functional or easy to use as we wanted it to be, so a new version was created in 2019. The new version is completely tablet friendly, and all the new functionality has been deliberately built to reduce the number of clicks and speed your service time.
Some noteworthy improvements:
No more stuck tables
More customizable
Tip Sharing
Search for menu item
Modifiers
Printable employee Z-out summaries (from receipt printer)
New tab system
New table grid system
Bulk edit
Menu button
Menu Sub-Category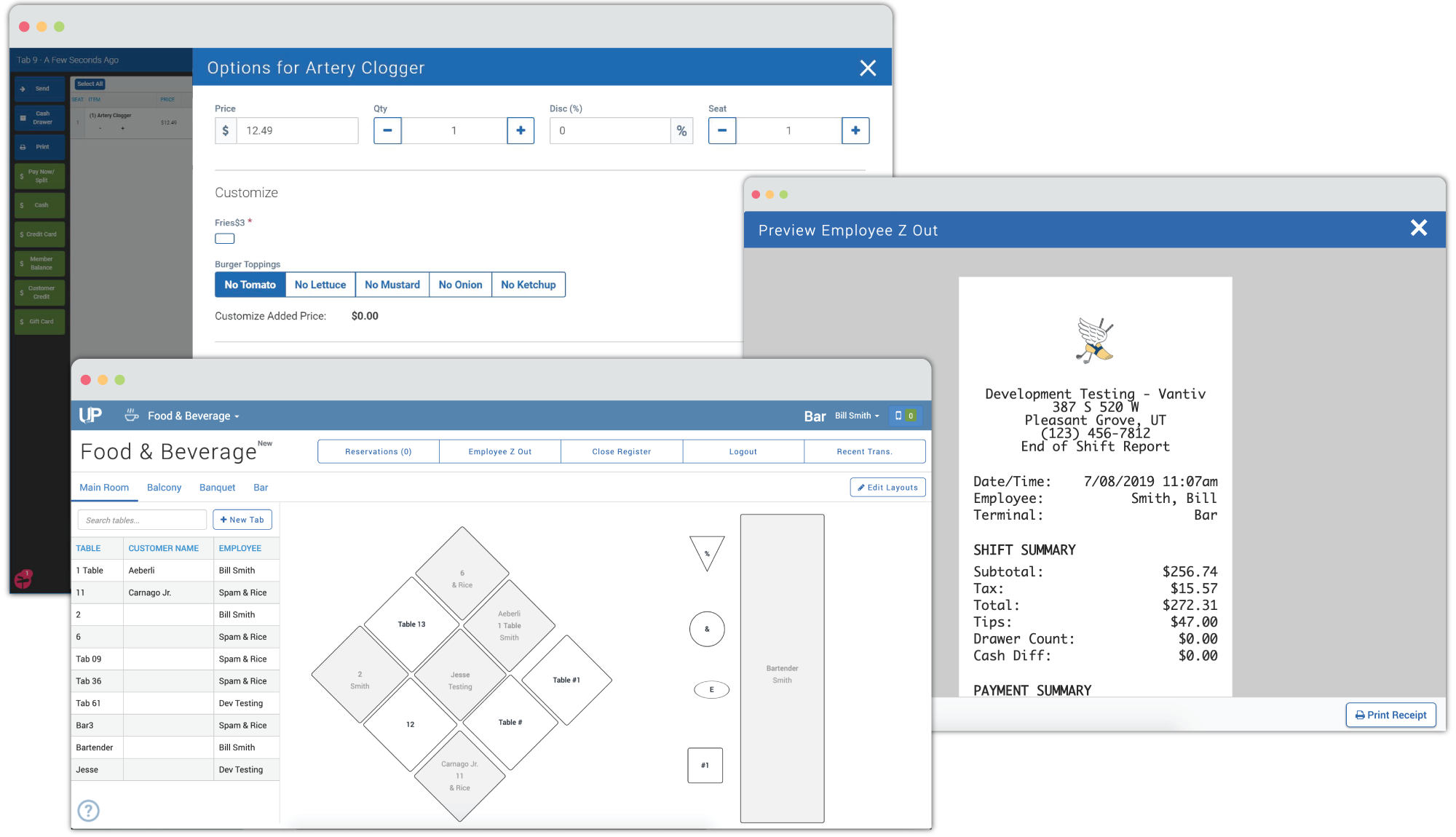 Before
After
All-New Reporting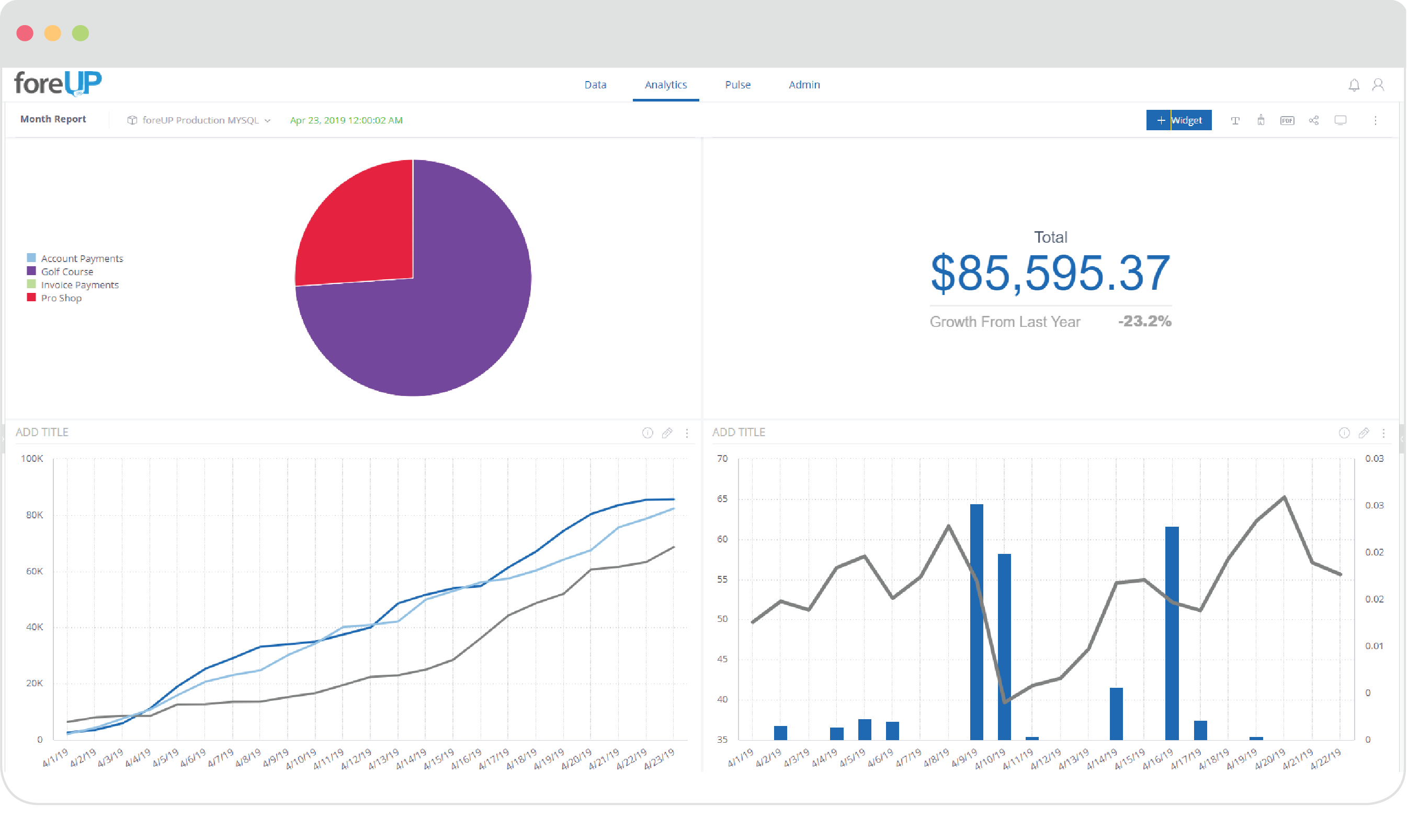 The ability to see into your business data is increasingly important, as more data becomes available for us to make better business decisions.
Not only have we taken dramatic steps to give you much more advanced, powerful reporting, we've also taken steps to make that data easier to access, easier to understand, and easier to compare against other data sets.
Inventory Auditing
We did a rebuild of our Inventory Audit solution to add flexibility and efficiency for our customers as they are performing auditing tasks. The revision of this module made it more straightforward, and requires little-to-no training for customers who are using the auditing tools.
Integration with a wireless barcode scanner
Mobile optimized
Save an audit and start later
Audits by inventory department or category
A complete interface redesign
| | |
| --- | --- |
| Inventory List: Before | Inventory List: After |
Inventory Item: Before
Inventory Item: After
Advanced Employee Permissions 
Advanced Employee Permissions is added protection to prevent employees from unintentionally wreaking havoc at your course. These updated permissions apply to the following modules in foreUP:
Protects your whole platform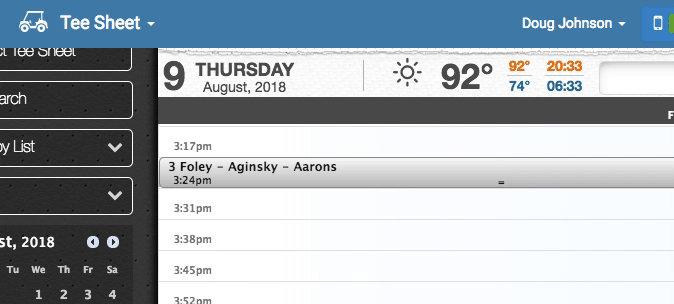 Tee Sheet
Point of Sale
Reports
Customers
Inventory
Gift Cards
Easy to create
Create permissions within the Employees module
Set up User Roles as desired
Update each user's role on the employee profile
For more information on Employee Permissions, check out this (video) or this blog post.
Updated Customers
Your customers are the lifeblood of your business, which makes it critically important for you to be able to have a quick view into all their information. We spent a lot of time and energy getting to know just what our customers wanted in their Customers module, how they were using it, and how we could make things better.
Now, if someone asks about their account status, invoices, balances, etc., you can easily search for their name and get that data on the fly.
And you can do it from anywhere, whether you're in the Pro Shop or out on the course with your mobile phone.
New filtering and advanced search options within the Customers module 
Filter using many criteria types like birthdays, duration since last tee time, open balance, etc.
New design 
Consistent user interface throughout the system
Customizable views for displayed tables/columns
View only the data you want to see
Customer Details: Before
Customer Details: After
For more information on Customers, check out this blog post.
Easier to Use on Mobile 
Although foreUP has always been usable on any device, the mobile version of our features was leaving something to be desired for our customers. In 2018, our developers took steps to improve the user experience when using a smartphone. We are continually improving the mobile-friendliness of our platform, but some of the changes so far are:
Significant mobile-friendly reboot for existing modules
Faster load times
Improved auto-formatting for smaller screens
New modules designed with mobile in mind
Tee Sheet Dashboard
The Tee Sheet Dashboard gives you quick transparency into the current health of your business, and a visual snapshot of the day to day operations at your course. It is an all in one place to look at the number of rounds by day and hour, revenue by day and hour, and price classes. The dashboard even breaks it out in an easy to read table showing number of rounds, revenue, and average revenue per round.
Pulls automatically from Tee Sheet and CRM
What golfers are playing
How often those golfers visit your course
Know where revenue is coming from 
Revenue by day & hour tell you when to offer online specials
Rounds by day & hour
Revenue broken down by source & month
Price classes of current play, relative to total count of rounds
Know how/when players are booking rounds 
Rounds broken down by source & month
Weekend bookings vs weekday bookings
Closing the Books
One of the biggest headaches for your back-office staff is felt at the end of the month or year as they are reviewing statements and find missing transactions and mis-matched records. We realized this was taking too much time and headache, so we implemented new Closing the Books.
Closing Books gives admins the ability to close the books and lock down adjustments made to transactions, however frequently they see fit.
Peace of mind for your accountants 
Numbers pulled from foreUP will be consistent
Passwords can be required if changes need to be made to a closed period
Customize the date
Choose the date you want to close the books
Past dates can be selected
Gives time for staff to make any adjustments prior to close
Modules affected
Sales Report
Register Logs
Billing
POS
For more information on Closing the Books, check out this blog post.
Tee Time TV Display
We created this option to make it quick and easy for walk-in golfers to see what tee times are available. The new foreUP display board shows your next available tee times on any screen, and specifies the next available single, twosome, threesome, and foursome.
Display only the available tee times from the Tee Sheet
Indicator of next open single, two-some, three-some, or four-some
Make announcements or advertise on the display board
This is what the Tee Time TV Display's look like at Bethpage Black, where their golfers can walk up and easily see what tee times are available and for what course, making it a better experience for the golfer and the staff.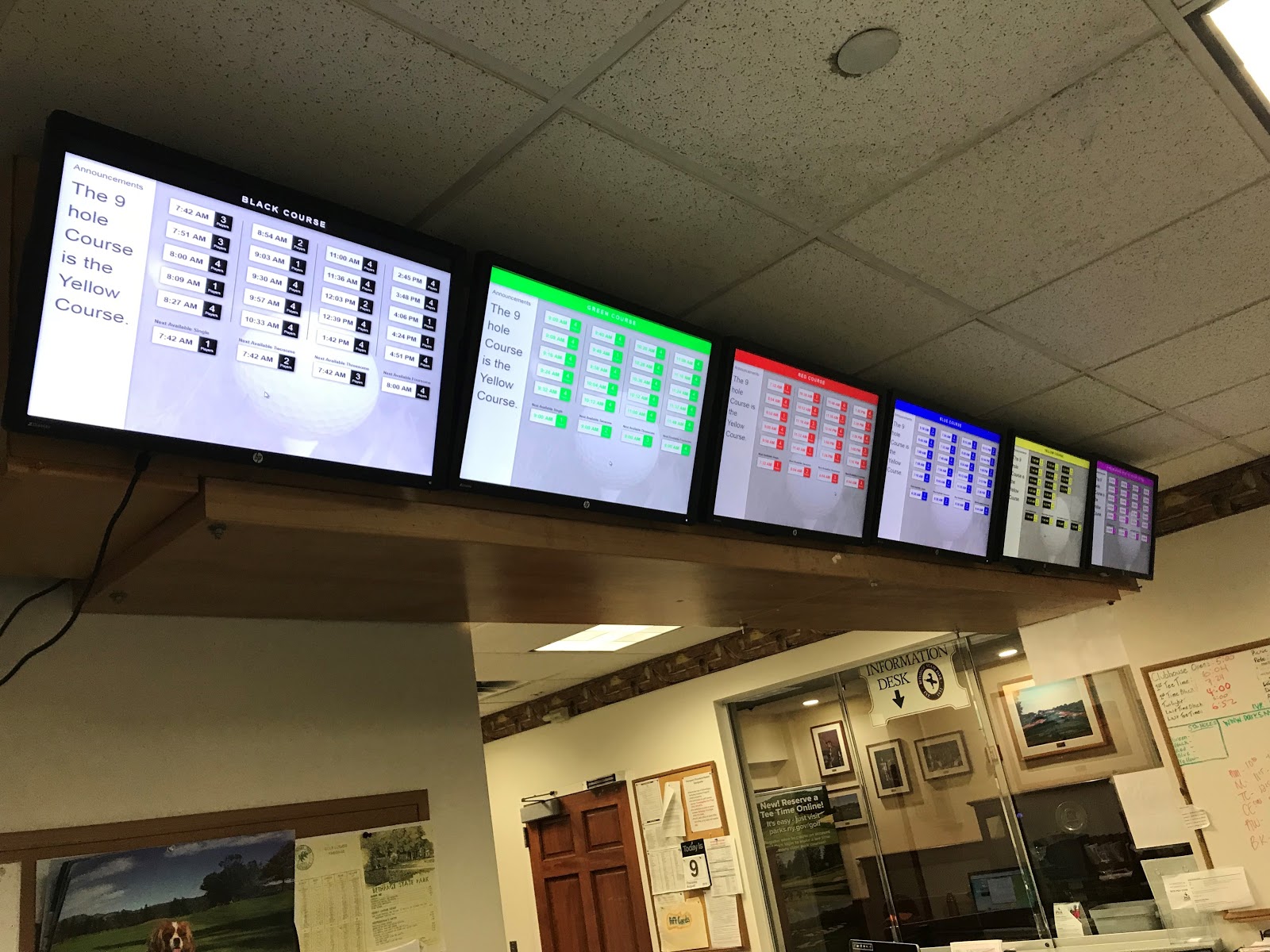 Settings
The main reason we updated Settings is that it was proving to be too complicated; our customers couldn't find the settings they were looking for, which meant they couldn't customize their software to make it work seamlessly for their unique needs. But that has changed for the better:
New design
Easy to navigate & find what you need
Vastly simplified structure
Tons of new options for customization
Mobile-friendly
Tooltips on every setting
Easily set up specials
Printer setup
We understand that each course has unique needs, so the number of setting possibilities must be extensive as well. With the new Settings, you can customize your course exactly the way you want it!  For more information on Settings, check out this blog post and video.
Tee Sheet Revamp
Our tee sheet is always being improved. Below are some of the recent changes we've made to give you added functionality.
Search for Customer
Sunrise Sunset
Highlighting the Tee Sheet in Notes
Current time on the tee sheet now updates with a red line indicator
Integration Marketplace
foreUP's open API makes it simple for 3rd party tools to integrate their technology with ours for a streamlined, all-in-one experience. Our in-software Integration Marketplace makes it simple to view existing integrations, request information from those companies, and authorize integrations with your foreUP account.
Some of the integrations currently available are: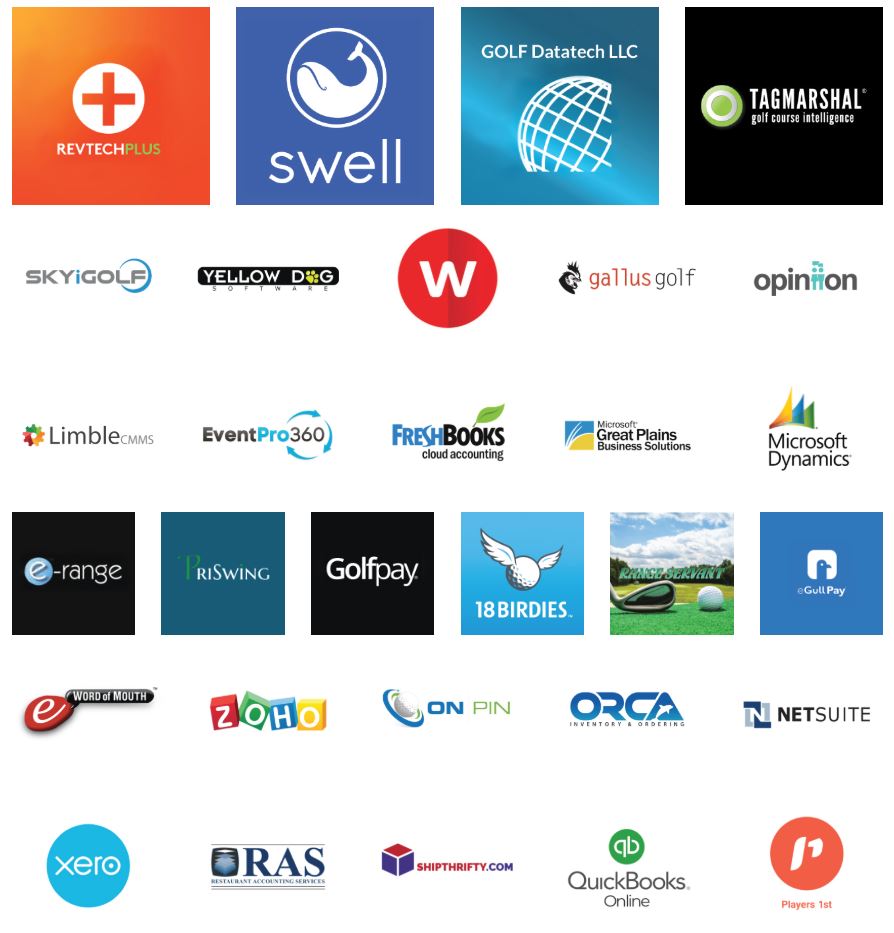 Players 1st
RevTechPlus
Yellow Dog (will be good)
GolfPay
Gallus Golf
CivicRec
18Birdies
Limble
F&B Minimum Transparency
Customers can now view the status of their food & beverage minimum, shown to them by printing it on a receipt, providing a report, or viewed within the Customers modal.
Transparency for customers
View minimum status
See all transactions that make up the minimum
See how much they have left to spend
Dynamic Pricing
Our customers were losing an average of $50 – $100 on the table just in the off-season when setting a static tee time rate. foreUP's pricing tools now make it simple to plan for the revenue strategies of your course, and take steps to automate your pricing process with our integrated partner solutions.
RevTechPlus integration
Designed by golf course owner Tom Barnhart
Determines rates according to the date and time of week
Considers peak and non-peak hours
Seamless integration with foreUP
Priswing integration
CEO is Arnaud Zunz, CEO of two highly successful online booking companies
Sophisticated reporting modules
Help business owners make informed decisions about their revenue management
Check out these blogs on dynamic pricing: Dynamic Pricing on the Rise in Clubs, Golf Courses & Businesses and Increase Off-Season Revenue with Dynamic Pricing.
Want something shorter? This infographic will help.
Website Design
We've been building golf websites for a few years, but in recent months we've improved the variety and quality of the golf course and club websites we build for customers.
Larger team
More design templates to choose from
All new design elements
Integrated forms to build your database & collect new players
Integrated online booking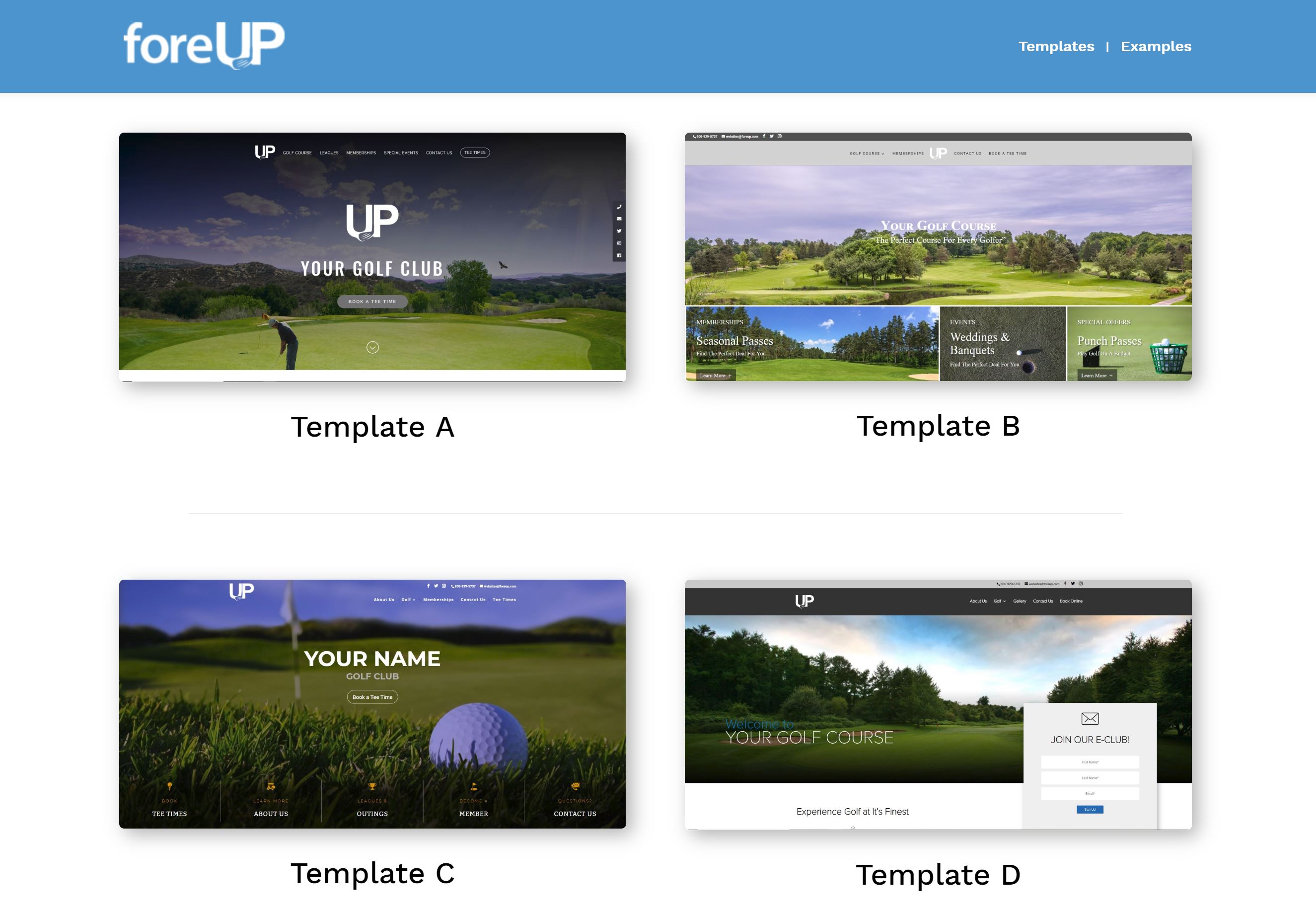 Smaller Updates Our Customers Love
Sometimes it's the little things that are actually the big things. These features add a lot of value for many of our customers, so although they seem small, they pack a real punch. 
Digital starter sheet
Logo on the receipt
Logo on invoice and statement
Customize/brand the member portal
Daily specials
Happy Hour
Sales Audit Log
Employee z-out
Sunrise-sunset automation
New login screen
Ability to limit house accounts to specific
More member management tools
No-show rules
Rainshow rules
Selling passes online
Bulk edit for Inventory and Customers
Back nine increment settings
New iPad mag swipes
New Processes and So Much More
In addition to all of these things are multitudes of smaller things that have improved the speed, ease of use, and functionality of our existing tools. These are all released behind the scenes (and you don't even know it,) and result in no down time for your business.
New processes for collecting, reviewing, and implementing customer requests have been built out to allow us to serve you better and faster. Email product@foreUP.com with your suggestions, or visit foreupgolf.com.
Ready to give foreUP a try?
Hate talking to software companies? We'll give you $25 just for taking a demo to ease your nerves.