Attention
foreUP
users! In an attempt to keep you better informed, and to give you faster access to the support or answers you need, we have released an improved resource center in the software.
This new feature has multiple uses, some of which are new and some that will continue to be improved upon as we get more feedback from our users and employees.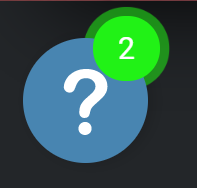 1. On the bottom left hand side of every screen in the foreUP software is a blue, circular icon with a white question mark.
You will now see a green notification atop the icon that indicates there is something updated or new to review.
2. When you click on the question icon, the first thing you'll see is the Announcements section. Clicking on this will show you updates to the software, by module.  We will do our best to keep this as up to date as possible. This will be a great resource for learning how to utilize new features to the best of your ability.
3. Live chat can also be accessed directly from this menu, which directs customers directly to a support representative.
4. Our resource center for FAQs, trainings/tutorials, and how-to articles will be located here as well by selecting "Help Center".
We hope you find these new tools beneficial in keeping you up to date, as well as giving you quick access to the answers or help you need.
Questions or feedback? Let us know! The reason we've built this new functionality is to help YOU make the most of the software tools you use everyday at your golf course or club. Let us know how it makes a difference in the way you use your system!