Joel Ragar of foreUP Golf Software will be providing golf course operators with strategies that can be implemented in under 60 minutes to attract new players and increase repeat play at the Golf Inc. Summit on September 26.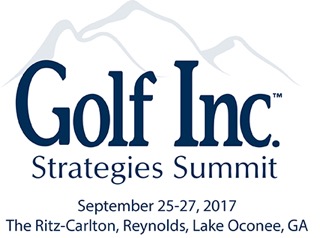 LEHI, UT
September 22 – Joel Ragar, co-founder and CEO of foreUP Golf Software, is set to provide actionable, strategic advice to golf course managers and operators at The Golf Inc. Strategies Summit on September 26 at 10:00 am.
The session, titled "How to Win Golfers in a Competitive Market", follows the overarching theme of the show, which focuses on inspiring golf investors, operators, and managers by illustrating industry trends, proven strategies, and innovative changes being made by successful golf courses.
"The Golf Inc. Summit will bring together the leading operators, managers and owners for three days of powerful networking and education, says Jack Crittenden, Editor in Chief for Golf Inc. "Ragar and the other speakers represent the very best in the industry and more than 94% of last year's attendees planned to invite friend to a future event. "
The presentation will also highlight strategy tips from Brian Rashley, Director of Stockton Seaview Hotel & Golf Club, and Kevin Dedonato, General Manager from Tiburon Golf Club. The group plans to give attendees actionable tactics for marketing & running their course, all of which can be implemented in less than sixty minutes.
Attendees will be provided with easy-to-adopt strategies based around:
Maximizing Your Social Media & Digital Footprint
Growing and Managing Your Database
Building Data-Driven Programs to Increase New & Repeat Play
"Because we create software for the golf industry, we've spent years really identifying the unique needs and opportunities for courses who want to boost revenue and streamline day-to-day operations," says Ragar. "I'm really excited to provide attendees with simple tricks we've found to make their jobs easier and their courses more successful."
foreUP will be at booth #7 during the Golf Inc. Summit. Attendees will have access to a variety of downloadable content like cheat sheets, instructional articles, and best practice guides related to the topics covered in Joel's presentation.
For more information about foreUP Golf Software, visit their website. Attendees and non-attendees alike can send an email to golfinc@foreUP.com to be sent a list of the downloadable content relating to the topics covered in Joel's presentation.

About Joel Ragar and foreUP
Joel is the CEO and Co-Founder of foreUP, which was started in 2012 after identifying a desperate need within the golf industry: business management technology that could meet the unique needs associated with running a golf course.
In 2017, foreUP has become the fastest growing point of sale software company for the golf industry. Their complete suite of cloud-based tools make it simple for golf professionals to easily and efficiently run a successful course. With Joel's vision and dedication to the industry behind them, foreUP has been instrumental in bringing the golf market into the 21st century. Learn more about foreUP at foreUPgolf.com.
Contact:
Amy LaVange
foreUP Golf Software
media@foreUP.com
www.foreUPgolf.com
XXX