How much hair (and time) are you losing over your inventory audit processes? 
For most courses we've worked with, we already know the answer to this question is "a lot."
Since our goal is to make your course more efficient and more profitable, we've made a BIG change to foreUP's Inventory Audit tool. Starting this week, your team won't have any reason to hate inventory audits.
What Makes A Good Inventory Audit?
An effective inventory audit tool helps identify buying trends, monitor theft, and–ultimately–empower a business to make more strategic and profitable decisions.
How Are You Currently Performing Inventory Audits?
Think about your current audit process. We imagine it looks something like:
Export and print a list of all your inventory items in alphabetical order.
Walk around your facility with printed sheet and pen, writing down item quantities as you go.If all the inventory is laid out in alphabetical order, this might not be as much of a pain. If not, you constantly having to look up the item on the paper and then write it in.
Go back to your computer and manually enter all those numbers into the system once you are finished.If you have a large operation, this process could take hours to complete–not to mention the frustration of losing your place and trying to read your handwriting.
Our NEW Inventory Audit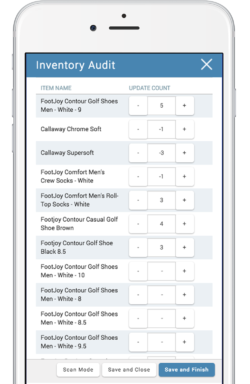 Our new inventory audit feature is no small improvement. It adds freedom, accuracy, and simplicity to the way you manage & control your pro shop.
"The new inventory audit is straightforward, requires little to no training and will save us so much time!"
-Billy Barbour, Irish Hills
It's Mobile Friendly
Want to use that smartphone of yours? Now you can walk around your facility, inputting inventory quantity levels right from your phone without printing or updating quantities into the system manually.
It's Scanner (And Non-Scanner) Friendly
You can now scan & update your inventory count by scanning the item's barcode. This allows the operator to scan items as they are laid out in the facility–as opposed to an alphabetical approach.
It's Department or Category Filter Friendly
If you opt out of using a scanner, simply filter the area of the operation to a specific department or category.
It's 'Save & Close' Friendly
For the times you need to save your progress and finish at a later time, you'll love our new Close & Save For Later feature.
Why the changes?
Simply put: because we listen to our customers. The new Inventory Audit feature was inspired by some woes we've heard from our customers, like:
It Takes Forever:
We do inventory audits on a regular basis, which take hours every time. And, usually, they're usually done outside of our normal business hours.
No Freedom:
We have to do our inventory audit all at once; all or nothing. We want to break it into groups, so we can do smaller sections as time permits.
We have to do things through a stationary computer, which makes managing our inventory very cumbersome (and prone to error.)
No Organization:
Our inventory numbers are incredibly unorganized.
Poor Data Insight:
We don't have easy access to the data that will tell us what items to push to customers at what times, which would assist us in reaching our annual sales goals.
Our new inventory audit improvements will solve ALL of these problems, and ensure you are performing inventory audits in the fastest, most effective way possible.
Here's what our beta users are saying:
"This eliminates the possibility for error with the current pen and paper method, and you can walk around with it and have your inventory updated in real time."
-Brian Karr, Sand Hollow

"A lot easier, this feature will definitely save us time!"
-Scott Nicholes, Centennial Golf Course
Ready to get started? Click the "View Training Article" or "View Training Video" buttons on the bottom right corner of the home screen within your foreUP software.
Happy auditing!