Are you losing more than $100,000 a year?
If your course doesn't require prepayment on tee times, the answer is probably yes.
But that lost revenue doesn't have to stay lost, and the fix is simple with foreUP software.
A research team from foreUP set out to find out the real numbers around requiring prepayment, and the results were surprising.
There was about a 15% difference in no-show golfers between clubs and courses that required online prepayment and those that didn't.
Average online payment required show rate: 95.37%
Average online payment not required show rate: 81.97%
And those are just the average numbers. Show rates varied by region and a course's average amount of tee times booked. Depending on the details of your course, show rates could be as low as 71%.
But courses requiring prepayment are seeing show rates up to 98%.
That's not a negligible difference — it's a margin that is costing courses real money, and lots of it.
Different courses of different sizes will see a wide variety of yearly revenue.
Larger courses not requiring prepayment will technically see a larger amount of lost revenue, but smaller courses may be hit much harder by losing that revenue at all.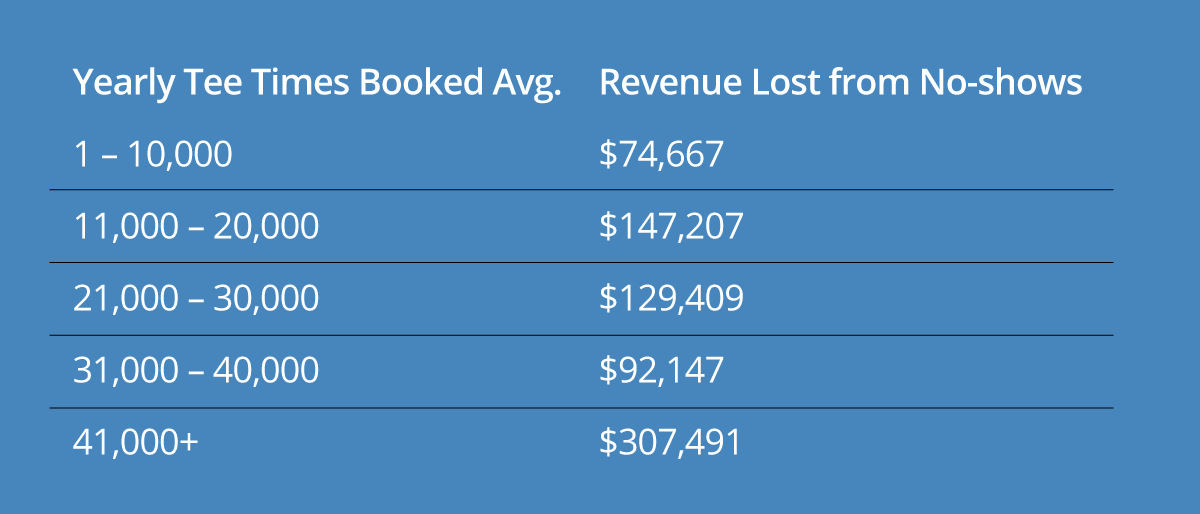 These numbers may seem dismal, but they don't have to continue affecting your business.
We know that requiring prepayment might seem like a big leap. Many courses worry that they'll get fewer bookings or upset their golfers.
But we have the research that shows the reality: requiring prepayment only makes you more money.
The Valley View Golf Course put prepayment to the test in a recent foreUP Case Study.
Instead of accepting the lost revenue, the team at Valley View implemented required prepayment. According to Head Pro Dustin Volk, they're never going back.
"I have the data now to prove, we should not ever go back to letting a customer book a reservation without paying something up front. I have the data and the numbers to show that no shows are virtually gone."
foreUP has done the research, and we're bringing the truth to light: not requiring prepayment on tee times is losing you money. End of story.
Don't lose profit. Get a demo of foreUP today and start requiring prepayment.