(Okay, okay. We are more than a little excited. But this is BIG!)
Even with all the barriers our email providers put up to weed out unnecessary messages, email marketing continues to be one of the best ways to engage your current player base, bring in repeat business, and drum up new customers.
But there are some roadblocks.
Impersonal emails don't get opened.

Ugly emails don't get viewed.

Cluttered emails don't get clicked.

Irrelevant emails can hurt more than they help.
So we decided to build a tool to empower you to do more than just send emails and instead send great emails.
And… as the cherry on top….do it easily.
Introducing a Fully Rebuilt, Enhanced Marketing Module
The whole interface of our golf Marketing module has been fully redesigned to make it more intuitive and enjoyable to use. But the UPgraded interface is just the icing on the cake!
Our Product team has been working hard to make sure our software has everything you would get in other email marketing platforms—only now, you can do it right within foreUP!
So what are the biggest changes? (See all of them HERE)
Vast Image Gallery and Editing Capabilities: Don't have your own photos? Our image gallery has been stuffed full of beautiful images to engage your readers. If you prefer using your own, our all-new image selecting tool allows you to import your own images with ease.  

The new, extensive editing tool makes it incredibly simple to brand your images, and customize them however you please.
Pre-Built Professionally Designed Templates:

Designed by our very own product design team, our large collection of new templates gives you a template for every occasion.
Brand New Drag-And-Drop Editor to Customize & Personalize Templates:

Templates are only as good as your ability to customize them with ease. We've built this tool with your needs in mind, to make it as easy as possible for you to personalize the custom templates to meet your needs.

Q: So who gets this fancy new UPgrade?
A: All foreUP customers who are currently using the new marketing module will be grandfathered in to the rebuilt, enhanced tool. Don't have it? No problem, just contact sales@foreUP.com or call (800) 675-0422 to get started.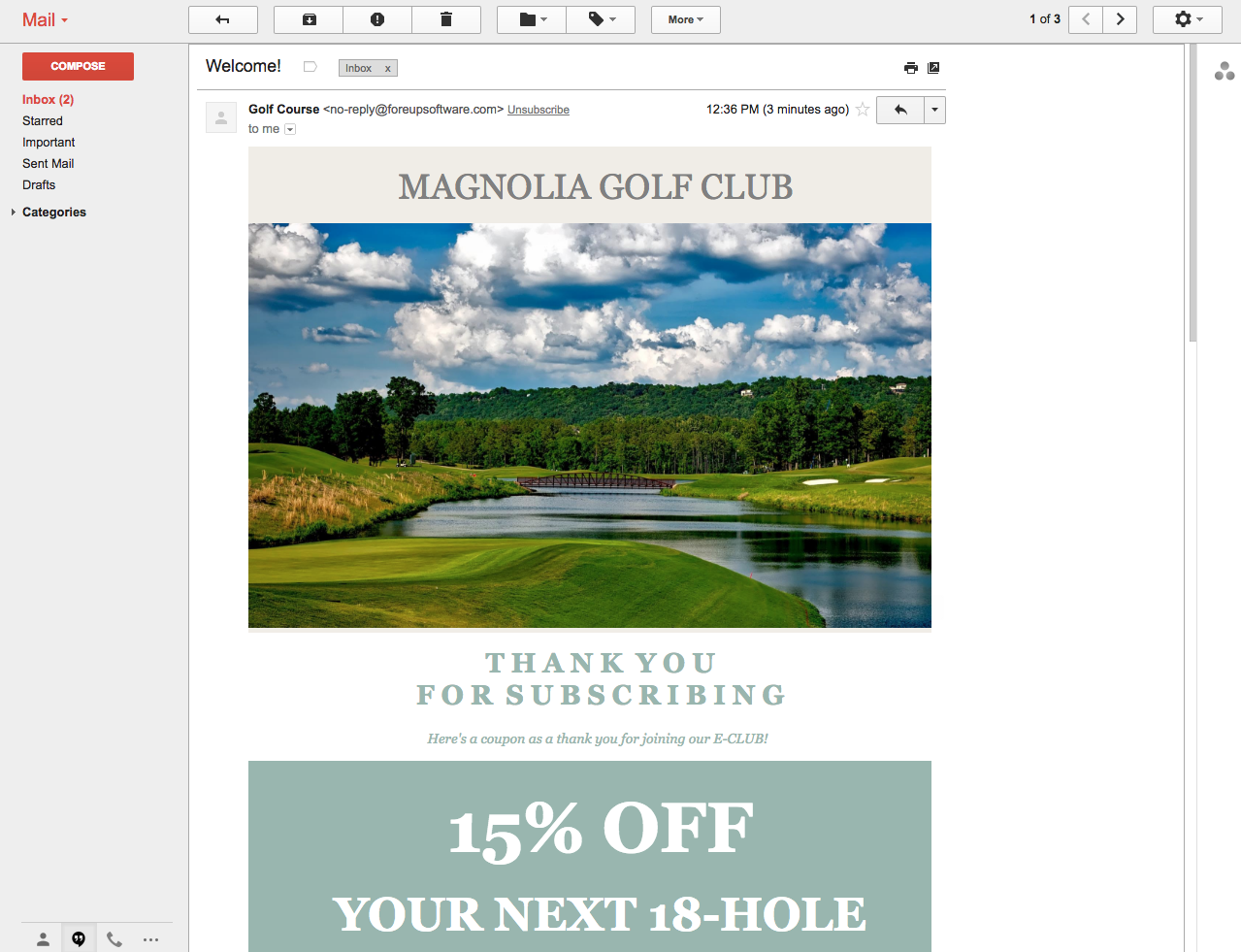 Q: Will we be adding in new features?
A: Yes! Many more features (including more personalization, statistics, advanced reporting and automation) will be added throughout the year.
Q: Why did you choose to UPgrade the Marketing module?
A: As with all our updates, the first reason is because—through months of industry research—we believe the UPgraded golf marketing tool will be a strategic tactic to help you become more efficient and more profitable, which are our core drivers at foreUP.
However, with this new module, we are listening to your feedback as our customer. Our goal has been to mimic or beat other email marketing alternatives, so you can get the same features & ease of use without trying to integrate additional tools.
We built this module to add more automation, customization, and personalization to your email marketing functionality.
Q: How does it compare to the old Marketing module?
A: We know it's hard to be the best at everything, right away. Our golf marketing module was ready for our focused efforts at the time, but now we've simplified:
Adding your own images

Enhance images

Editing/customizing text

Cropping and resizing

Changing/customizing colors
Q: What are beta customers saying?
A:
"Love all the new premade templates! The new layout of the module is easy to navigate, and the template creator is easy to use!" ~ Jason, Keller's Crossing
"The new template creation process is straightforward, and intuitive." ~ Rich, Falcon Golf Club
"Very easy design, I picked up [the new template creation process] up easily." ~ Scott, Rivers Edge at Burley
{{cta('0a0e6800-190a-4713-bf51-2d1be034030b')}}