In order to go "touchless", a digital starter sheet is a must. Our teams have worked hard over the last two weeks to speed along the launch of our much anticipated, cloud-based starter.
Not only will it allow you to maintain distance between your staff and your guests, it streamlines the operation for your marshal making it much easier to manage pace of play and enforce rules. When combined with new mobile check in, your marshal will be able to glance down at the starter sheet, verify check in and payment details, and wave the next group to the first tee.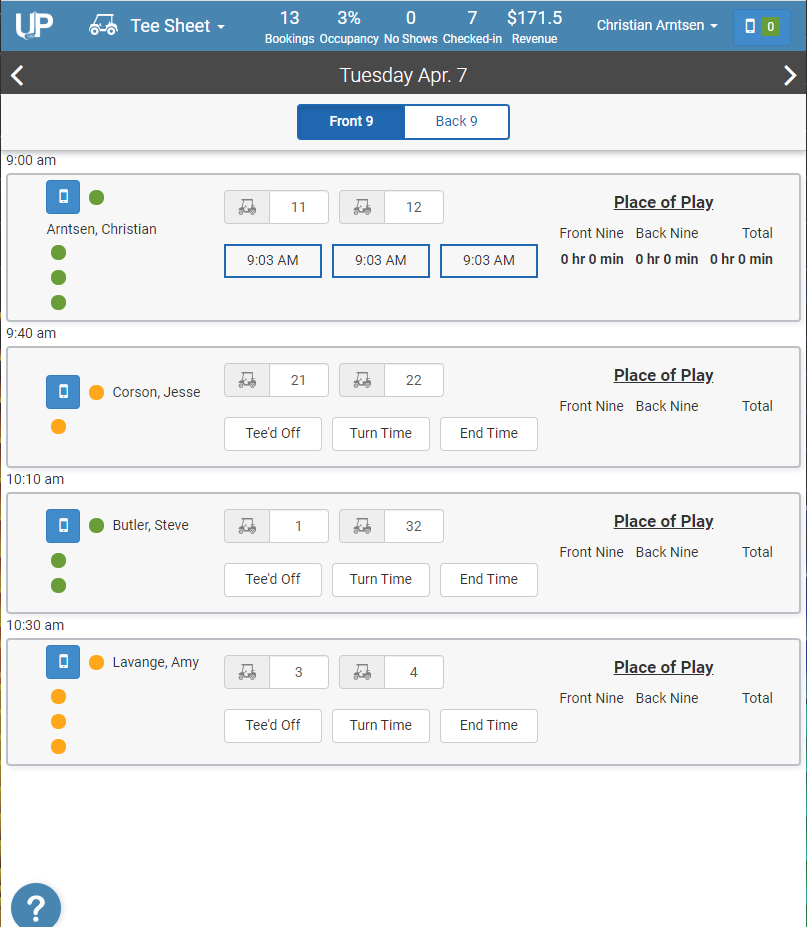 As seen in this image, the digital starter sheet can be accessed on any screen that is smaller than your typical computer screen. If you're on your cell phone, navigate to the tee sheet to find a big blue button in the corner that says Starter Sheet.
Some things to know about the new digital starter sheet:
Every tee time will be displayed on the starter sheet.
You can add the cart numbers that are assigned to each group
Manage pace of play with the three buttons that track when they start, when they round the turn, and when they are finished.
The starter sheet communicates with your tee sheet, and vice versa; if you put cart numbers on the starter sheet, the tee sheet is updated. If you put them on the tee sheet, the starter sheet is automatically updated as well.
The starter sheet also allows the Marshall to know who is checked in and paid, and who has not.
Yellow = Not Checked In
Green = Checked In and Paid
Feedback
Our new features typically go through rigorous testing and revisions before we release them to our customers. Although this feature was released earlier than intended, we will continue to make optimizations based on your feedback. Please send any notes for improvements or changes to our Product Board HERE.