The PGA Merchandise Show is less than a week away, so it's time to pack your favorite pair of walking shoes and begin preparing yourself for the hours you'll spend wandering the halls of Orange County Convention Center.
At least that's what you'd normally be doing this time of year. Not so in the era of COVID.
It's 2021, and the golf industry's largest business and networking event is going all-virtual for the first time in its 68-year history.
That means your trade show survival kit need only include a comfortable chair, a working computer or tablet, and a functional mouse pad.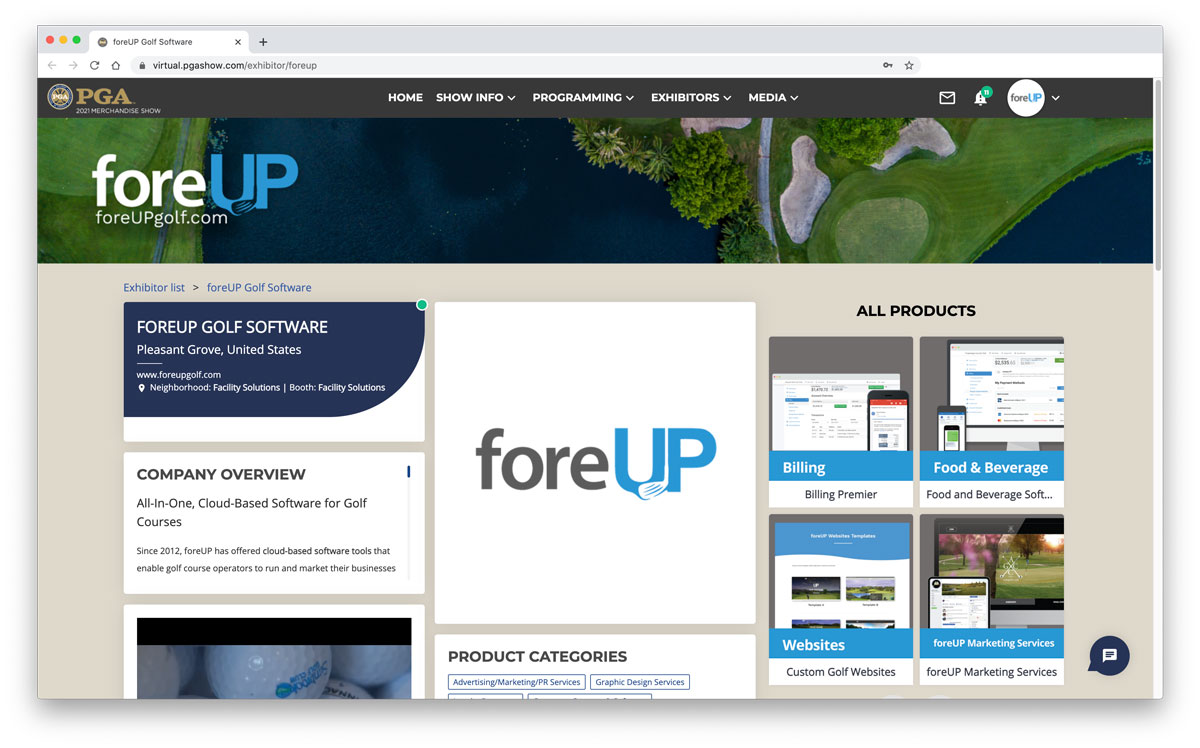 Just a Click Away
Although we at foreUP will miss (most) everything about the PGA Show, we look forward to engaging with you and other attendees via the online platform and marketplace.
Our team will be live in the foreUP virtual booth throughout PGA Show week (January 26-29) to answer questions, exchange information and ideas, conduct demos, and strengthen relationships.
To connect with us, go to the PGA Show website (pgashow.com) and use your PGA Show login info to access the virtual trade show.
Once inside, you can search for foreUP using the Exhibitor Directory or go directly to our virtual exhibit space.
We encourage you to spend some time exploring the foreUP trade show site, where you can:
learn about our entire portfolio of technology solutions and services;
download useful content and product information; and
view case studies and testimonials.
You can also schedule an appointment, message a team member, or interact with a foreUP rep in real time.
Show Specials and Features of Note
Everyone loves the bags of schwag you can score at the PGA Show.
We can't toss you a t-shirt or hand you a ball marker from the foreUP virtual booth, but we can offer you $35 to demo Golf's Leading Cloud-based Tee Sheet & POS Software.
Go HERE to schedule your meeting. 
While visiting our PGA Show hub, we also encourage you to ask about:
Our new cloud-based tee sheet, completely redesigned to boost performance and efficiency
"The Future of Golf Course F&B," an online educational seminar cohosted by foreUP and 9-Eighteen Solutions
foreUP Marketing Services (fMS), our turnkey digital marketing solution
Other tips, tools, and insights for golf course management
To learn more, schedule time with a foreUP rep in advance or visit our virtual booth any time during regular show hours.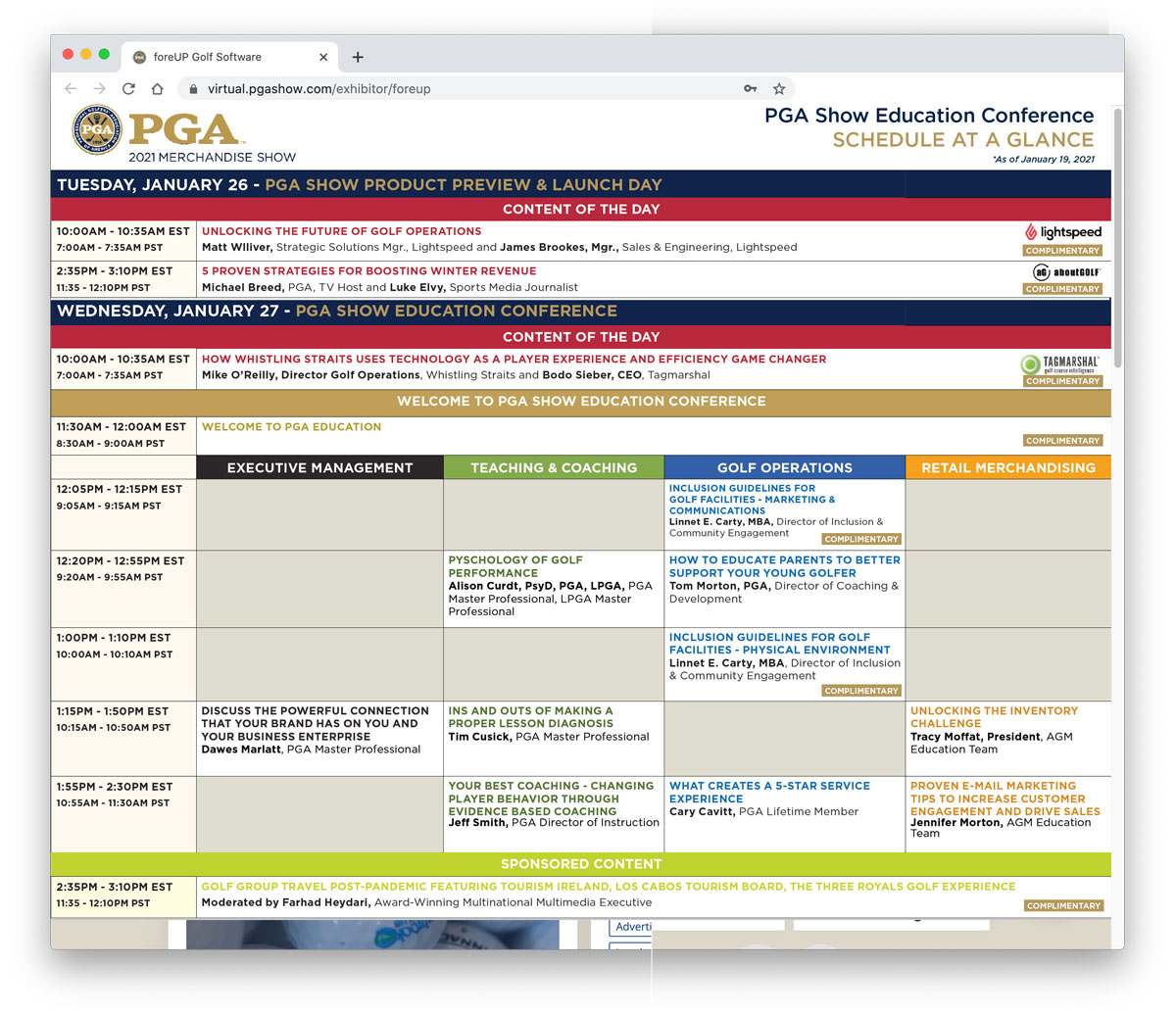 Getting [Even] More from the Show
We get it—visiting the foreUP virtual booth to discover the countless ways we can help you run a better business isn't the only reason you're attending the PGA Show. (But it is a really a good reason.)
Regardless of where or how you plan to spend the majority of your time, here are a few tips to get the most from your experience,:
Make a plan. Whether in person or online, the most efficient way to navigate the PGA Show is to have a clear idea of where you want to go and what you hope to accomplish. Take time before logging in to prioritize the vendors and products you have to see, saving the casual browsing until after your essential visits.
Schedule important meetings. With this year's virtual platform, it's never been easier to hop from booth to booth. The same goes for booking appointments. Do yourself a favor and use the online calendar to set aside time with select companies for such key activities as viewing sales presentations, negotiating or renewing contracts, and discussing customer service issues.
Attend educational sessions. The vast array of equipment, technology, apparel, and accessories at the PGA Show often overshadows the robust learning opportunities offered throughout the week. Make it a point to participate in as many virtual seminars and education sessions as possible to gain actionable insights relevant to today's trends and operating reality.
Put work on pause. Approach the all-virtual PGA Show much like you would the live event. Clear your calendar, set your email auto responder to let people know you're out, and have coworkers cover for you while you're online. You never know what types of opportunities you might encounter by being fully present.
On with the Show
Let's face it: This year's PGA Show will look a little (OK, a lot) different than in the past.
Although nothing will replace the face-to-face interactions and in-person experiences that take place in Orlando each January, participating in the virtual event promises to make a tangible impact on your business.
That's a message that translates, regardless of the platform or setting, and the reason why we at foreUP believe that the [PGA] Show must go on.