When you're two years old, one year represents 50% of your life.
When you're 50, though, one year represents only 2% of your life.
This, they say, is why time seems to fly faster with every year you've lived. Thus, the things you do with each year are that much more meaningful as they shape so much and get seemly shorter and shorter!
While no one is perfectly efficient, we feel that our contribution to the year's value is achieved by working tirelessly each and every day to be the best we can be. But what did our hard work achieve?
Take a look at our 2017 highlight video! 
To make this video, we looked back over the last year to see where we started and what we did. With this look back, we also get a renewed perspective about where we are going.
We are excited to share with you a review of some of our accomplishments and growth in this, our "2017 Year In Review" blog post.
So what did we do in 2017? A lot. And to show you, we put together a list of some of the biggest changes. There have been over 60 noticeable changes (or around 5 feature releases per month.) The upgrades have been the combined result of your feedback, and our commitment to giving you the things you need to be successful. Of course, without boring you with the hundreds of back end optimizations we made to push things even further.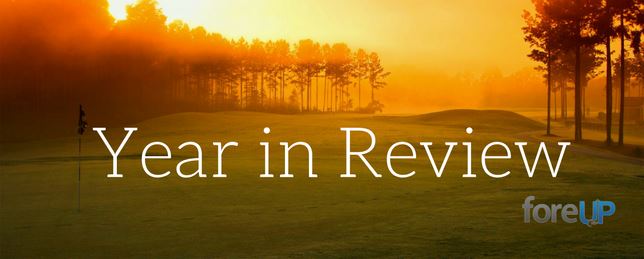 New and Improved Bulk Edit in Customers
Fully Redesigned Customers Module
Online Booking Tee Time Cancellation Options
Online Notification settings,including a "Notify All Parties" Option
Full Sunrise and SunsetAutomation (open and close) on the Tee Sheet
Newly Designed and Optimized Login Screen
Google Captcha and Bot Protection in Online Booking
2 Way Text Marketing
Course Optional Integrations (Including GolfNow if desired)
Pass and Membership Optimizations (Including visibility and renewal options in the POS)
A "Reorder Item" Button in F&B
Rename Quick-button Tabs in the POS
New HEX Style Color Selector for easy color selecting.
Added Canadian Provinces to Addresses
Implementation of New Satisfaction and Notification Tool
Added Customer Notes in the Tee Time Booking Window Online
Auto Log out for Employees
Complexity Options for Employee Passwords
Safeguards and warnings for unwanted changes
ACH Support in Vantiv for Invoices
New and Improved Bulk Edit in F&B Inventory (including modifier bulk edit)
Advanced Searching in Inventory
Fully Redesigned Inventory Module
Advanced Inventory Import Wizard
Barcode Label Customizations (i.e. Adjust size, text, etc…)
Fully Redesigned Employee Module
New and Improved Bulk Edit in Employee Module
Fully Redesigned Marketing Module
Robust Template Creator in Marketing
Member Billing – Robust Customization
Member Billing – Redesigned Professional Statements
Member Billing – Specific Payment Methods Per Billing Template
Member Billing – Finance Charges
Member Billing – Pro Rating Billing Templates
Member Billing – Email Optimizations and Reporting
Completion of Initial Product Research for a Promotion Module Build
Fully Redesigned and Enhanced Inventory Audit
Mobile Starter Sheet
Revamp of Suppliers Page
Right Click Tee Time to Delete or Mark No Show
Daily Specials on the Tee Sheet
Support Walkthrough Guides
Newly Recorded Instructional/Training Videos
Mobile Friendly and Fully Redesigned Settings Page
Communication Tool in Customer Account
Quick Stats Dashboard in Customer Account
Page Settings Accessible on Every Page
Development Work Started on Fully Redesigned Reporting Module
Added the "State" and "Account Number" as default columns in Customers
New Reporting Category, with Report, Named "Retail"
Create Customer Mailing Labels
Course Logo on Receipts
Feedback Module for Course Feedback to Product Team
Fully Redesigned, with Additional Information, Tee Sheet Printout
"Invoice ID" on Receipt for Easy Auditing with Integrated Merchant Processors
Completed new Merchant Processing Integration (In beta)
Change Colors of Tee'd Off Tee Times on Tee Sheet
Optimized Report Loads to Reduce CPU Usage
Option to Limit Customer Credit usage to Subtotals
Additional Online Booking Rules (Limit bookings per day, etc…)
Audio Notification for Received Text Messages
Addition of Return Reasons that Save for Reporting
Color coded Financial Numbers in Reports
Timeframe and Other Optimizations to Loyalty
Looking back at these, our more notable feature releases, we are proud of what we have done in 2017. But none of it is possible without you! A majority of our work in 2017 was lead by your feedback.
We hope you get a sense of our great passion for helping you be more profitable and efficient in everything you do. We want you in the driver seat, in control of your operation—the way it should be, with us here to facilitate your success.
We also hope you know of our utmost commitment to you and your business. With everything that we accomplished, collectively, in 2017 we are ecstatic about what can be done in 2018 and what you will accomplish. We are looking forward to a great 2018 and beyond.
Thank you for being a part of our foreUP family.