Trust & Transparency
Time to choose a point of sale for your business? Selecting your POS and reservation system is perhaps one of the most important decisions you will make as a growing business; the software you choose will become an integral part of your daily operations.
However, the stability and maintenance of that software is completely out of your hands. Any problems, bugs, or outages in the software will have a huge impact on your business. It's important to choose a point of sale with solid software provided by a company who treats you as a partner–not a client.
It's hard to identify the types of attributes that you should be looking for in a software provider, but you can gauge how they will treat you and your business by how they handle any major issues or software outages.
3 Questions To Ask Before You Choose a Point of Sale

Question One: Where is your status page?
Any reasonable point of sale or other software company will provide a status page of their entire system. The status page should give you an overview of:
What's working

What's not working

History of past incidents
Why Do You Want A Status Page?
Having a status page shows a level of competence, trust, and transparency. This should be the central location where you can get immediate updates on problems within the system. Many people don't think to ask for this before they choose a point of sale, not realizing its importance until it's too late. 
These could include:
Third party payment processors

Database slow down

Partial outages.
Here's a good example of what you should be looking for: http://foreup.statuspage.io/.  
You'll notice it shows the current status of all the important modules, a historical incident report, and also the current average response times.  
Question Two: When was the last outage, how long did it last, who did it affect?
Every company will have unexpected downtime–no matter how hard they try, or how talented their engineers are. Even the top companies like Amazon, Google, and Facebook have had their share of issues and their widespread outages.
Why Does It Matter?
Mistakes happen, but how a POS company handles those mistakes and the magnitude of their repercussions is the important part.  
You'll want to  ask additional questions, too.
Did the downtime effect every customer or just a select few?  

Was it for just a few minutes or a few days?  

How did you communicate with your customers during that time?

These questions should give you insight into how they handle the worse case scenario.
Question Three: Can I see your last post mortem?
A post-mortem is a summary of a software outage that is generally written by the engineering team.
A post-mortem should describe:
What went wrong

How it was fixed

What was implemented to prevent the same mistake twice.  
Before you choose a point of sale system, ask the company you're working with for the latest post-mortem and read through it. If the language is confusing, (as can be the case with programming lingo,) ask for clarification and address any specific questions you have.
Why A Post-Mortem?
You need to know the software you're running on is stable and that a competent engineering team is standing by, ready to solve any problems that arise.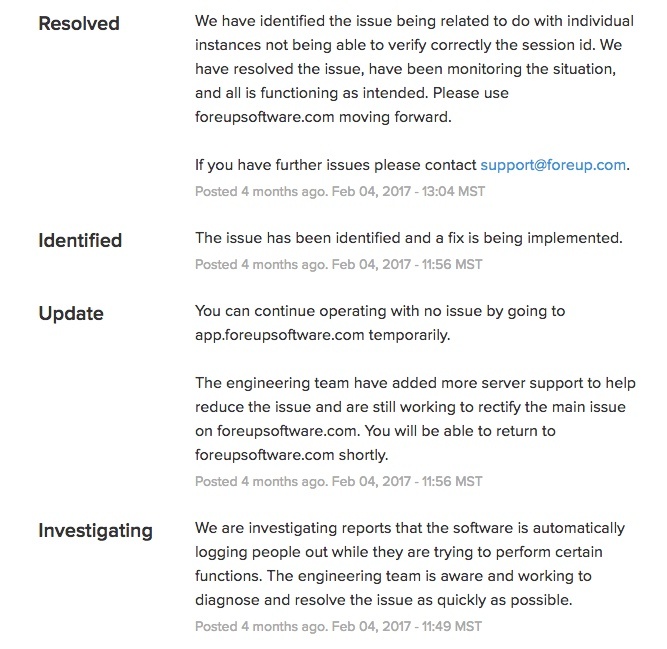 For reference, here are a few examples of post-mortems you can compare against:
Warning Signs To Watch For
The sales person you're talking to doesn't know what the status page URL is.


Every person in the company should be aware of their status page and know how to find it. If the person you're talking to doesn't seem to know, it's likely their status page is never used and is out of data.

There hasn't ever been an outage. 


If a company does claim to have no documented down-time, odds are they are either hiding something, they don't track outages, or they've had too many to count.

There is no post mortem.


This means that details of the last outage have been buried and hidden. This should be a huge red flag; if they can't provide that level of transparency and trust to you and your business, it's likely they'll see you as a customer and not just another business transaction.